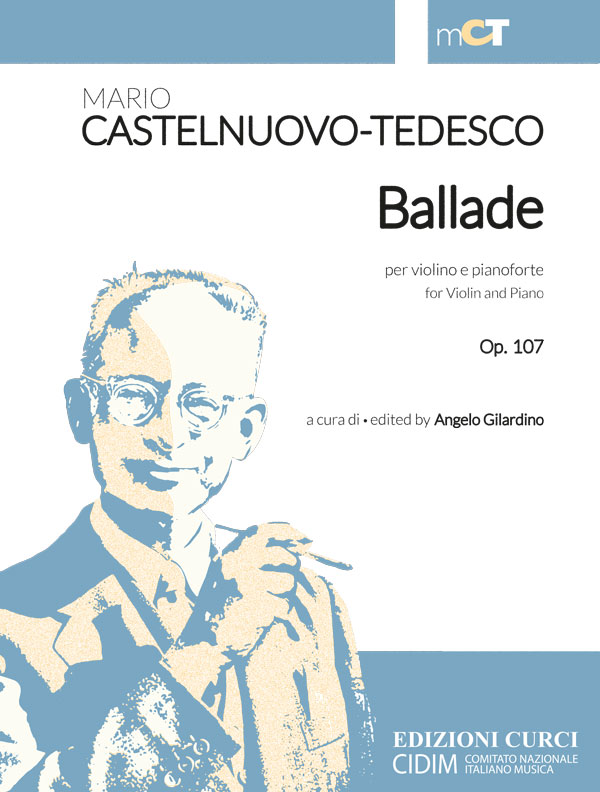 Ballade per violino e pianoforte op. 107
Collana: Mario Castelnuovo-Tedesco Collection
Prezzo: 14,90 €
Codice: EC11938 9790215909236
Tipologia: spartito
Genere: classica
Pagine: 32
Con parti staccate
Formato: 23,5x31 cm
---
Composta nel 1940 a Larchmont (New York), la Ballade op. 107 è uno dei brani più importanti che Mario Castelnuovo-Tedesco aggiunse al ricco catalogo delle sue opere violinistiche. Dedicato al virtuoso ucraino Tossy Spivakosvky, prende a modello la forma episodica della ballata chopiniana, toccando una ricchissima gamma di espressione e di colori nel quadro di un dialogo strumentale serrato e appassionante.
Composed in 1940 in Larchmont (New York), the Ballade op. 107 is one of the most important pieces Mario Castelnuovo-Tedesco added to his rich catalogue of violin works. Dedicated to the Ukrainian virtuoso Tossy Spivakosvky, it is shaped after Chopin's episodic ballade form and touches a wide-ranging palette of colours and expressions, within the frame of a tight and passionate dialogue between the instruments.
---
Edizioni Curci, in collaborazione con il Cidim, Comitato nazionale italiano musica, è orgogliosa di presentare la Mario Castelnuovo-Tedesco Collection, la prima collana editoriale dedicata al compositore fiorentino (1895-1968), diventato negli Stati Uniti il "maestro dei maestri". Il curatore è Angelo Gilardino (1941), compositore e studioso che gode della piena fiducia degli eredi di Castelnuovo-Tedesco. La collana prevede la pubblicazione di tutte le composizioni ancora inedite conservate presso la Library of Congress di Washington, conformemente ai manoscritti originali. Ogni volume è redatto in italiano e inglese.
Edizioni Curci, in association with Cidim, Comitato nazionale italiano musica (Italian National Music Committee), is proud to present The Mario Castelnuovo-Tedesco Collection, the first series ever published entirely dedicated to the composer from Florence (1895-1968) who settled in the United States, where he became known as "the Maestros' Maestro". The collection is edited by Angelo Gilardino, composer and scholar, who enjoys the full confidence of the Castelnuovo-Tedesco's estate. The collection will present all of the musician's as yet unpublished works, which are housed at the Library of Congress in Washington DC, according to the original manuscripts. Each volume has both Italian and English commentaries.