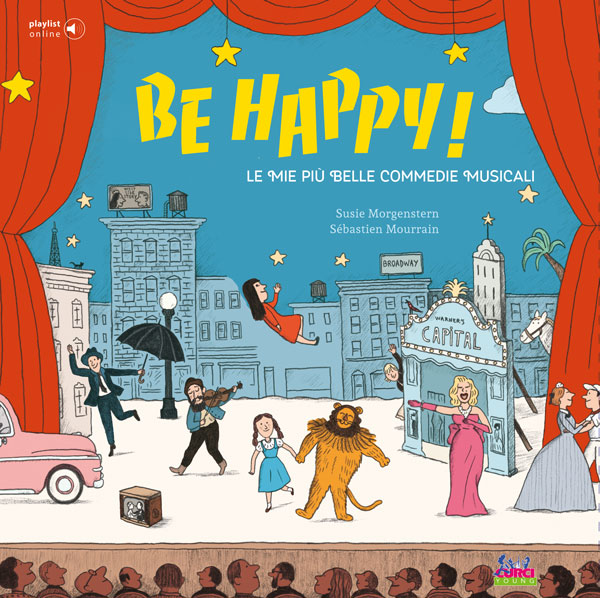 Be happy!
Playlist online
Le mie più belle commedie musicali
Prezzo: 23,00 €
Codice: EC12139 9788863953985 8863953988
Tipologia: libro, ragazzi
Genere: classica
Pagine: 48
Formato: 27x27 cm
Confezione: Cartonato
---
Un libro musicale, una porta aperta per l'immaginazione.
NEW YORK, primi anni Sessanta.
Ogni mese Susie e le sue sorelle vanno a vedere una commedia musicale.
Balli, canti e buon umore sono all'ordine del giorno!
Per quelle adolescenti timide, è felicità pura!
Fred Astaire, Gene Kelly, Judy Garland…
BE HAPPY! È l'età d'oro delle commedie musicali!
Con umorismo e sensibilità, Susie Morgenstern racconta in che modo le commedie musicali che ha visto da ragazzina hanno cambiato la sua vita.
SINGIN' IN THE RAIN – Cantando sotto la pioggia
Singin' in the Rain
Make 'Em Laugh
Good Morning


CALL ME MADAM – Chiamatemi Madame
It's a Lovely Day Today


THE SOUND OF MUSIC – Tutti insieme appassionatamente
Do-Re-Mi
My favourite Things


SOUTH PACIFIC
I'm Gonna Wash That Man Right Outa My Hair


AN AMERICAN IN PARIS – Un Americano a Parigi
I Got Rhythm

WEST SIDE STORY
I Feel Pretty
Somewhere

MY FAIR LADY
I Could Have Danced All Night

THE KING AND I – Il Re e io
Getting to Know You

TOP HAT – Cappello a cilindro
Cheek to Cheek

GENTLEMEN PREFER BLONDES – Gli uomini preferiscono le bionde
Diamonds Are a Girl's Best Friend

THE WIZARD OF OZ – Il Mago di Oz
Over the Rainbow

GUYS AND DOLLS – Bulli e pupe
A Bushel and a Peck

SUMMER STOCK – L'allegra fattoria
Get Happy

FIDDLER ON THE ROOF – Il violinista sul tetto
If I Were a Rich Man

ANNIE GET YOUR GUN – Anna, prendi il fucile
There's No Business Like Show Business